Black hair is more than beautiful – it is spiritual. Saints and sages instinctively let their hair grow for a reason. Rastafarians regard dreadlocks as a receiver and transmitter of divine energy. And even if you are not spiritual, long healthy Black hair is a beautiful sight to behold.
If you want to grow long, strong, and healthy Black hair and support Black businesses, we reviewed some of the best natural products out there. These products can speed up slow hair growth, heal damaged hair, and give hair strands a thicker appearance.
According to this 2005 study from the International Journal of Dermatology, hair grows at an average rate of ½ inch per month. Black hair can sometimes grow a bit slower than this, so finding the right Black hair care products is important.
Thats why every review below includes:
✅ Ingredients that make black hair grow
✅ Where to buy the best Black hair products, and
✅ Information on the Black owned hair companies that make the products.
Why You Should Only Use Black Owned Natural Hair Products
Our hair is our crown, our mane, and the antenna through which spiritual forces are received.
Unfortunately most of the hair care products pushed on Black customers by corporations are ineffective or down right dangerous.
In fact, a study by the Environmental Working Group found that over 70 percent of products marketed for Black hair contain dangerous ingredients, compared with 40 percent of hair products that are made for the "general public."
Let that sink in for a moment.
The study of more than 1,100 hair products marketed toward black consumers revealed a shocking bias in the products' chemical composition.
Less than one in four products tested "low hazard" for the inclusion of dangerous ingredients, with most containing toxic chemicals that can potentially cause cancer or developmental and reproductive damage, disrupt hormones, and trigger other adverse health effects. Toxic ingredients such as lye (found in relaxers) and formaldehyde (found in keratin straightening treatments and Brazilian blowouts) are still commonly used…
Not only do we put our health at risk when we buy off-the-shelf products, we also lose the chance to build Black wealth.
According to CNBC, the black hair care industry is worth more than $2.5 billion, "but that statistic doesn't include products such as hair accessories, wigs or electric styling products. So, the industry is actually worth much more.
Most hair care products purchased by African-Americans are imported from countries such as India and China, despite the U.S. having one of the most lucrative hair care markets in the world."
When we buy all natural Black hair care products, we are not just helping ourselves – we are practicing group economics and helping our community!
Black Owned Hair Growth Vitamins
1. Shedavi Hair Vitamins

Elizabeth Davis – Owner
About Shedavi Hair Products
Shedavi is owned by Elizabeth Davis and features all-natural, holistic and ethically sustainable products focused on the health of your hair, skin and nails.
How This Product Supports Black Hair Growth
Shedavi vitamins contain 4000 micrograms of biotin – thats 13333% of your daily recommended value!
Biotin is a water-soluble vitamin that's a part of the vitamin B family.Your body needs biotin to help convert certain nutrients into energy. It also plays an important role in the health of your hair, skin, and nails.
People tend to swear by this product. Check out the review below for a real-life testimonial.
Where To Buy Shedavi Hair Vitamins
2. Nzuri Black Hair Vitamins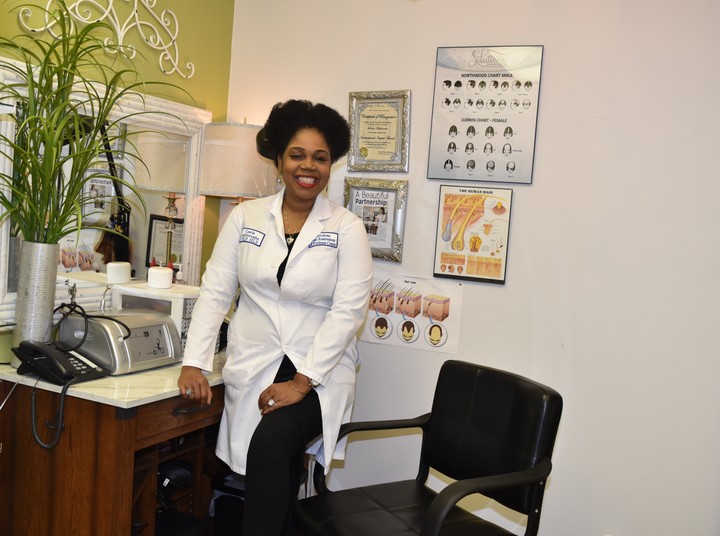 Leola Anifowoshe is a certified Trichologist (Hair and Scalp Specialist) and co- founder and CEO of holistic hair care and vitamin supplement company Nzuri LLC, formerly known as Naturalife.
About Nzuri
Nzuri has been in the industry since 1994. According to their website, they use "exotic new ingredients and super-foods" to create their natural products. They also work with "some of the best chemists, scientists and lab technicians the industry has to offer." Every year, the company hosts the Nzuri Natural Hair Health & Beauty Festival –  Houston's first and Texas' largest natural hair Festival.
How This Product Supports Black Hair Growth
A look at the back label shows us the vitamins and minerals the product contains.
Not only are these ingredients great for natural hair growth, they are all great for overall health.
Where To Buy Nzuri Kra-z Hair Gro Vitamins
About The Mane Choice
This company is really dominating the Black haircare industry while also helping other women entrepreneurs who aspire to make their dreams come true through philanthropic work. The company started out when the Founder, Courtney Adeleye, experienced a hair care disaster while using commercial products. She teamed up with her husband who is a Medical Doctor to create natural solutions to hair health. Since then, the company has grown from an e-commerce site to having a footprint in over 20,000 retail locations.
How This Product Supports Black Hair Growth
There is a reason this is the number one Black hair vitamin on the market. Each pill contains essential vitamins that are important for hair growth. Here are a. few.
Vitamin A
A multi-functional antioxidant that promotes healthy skin, hair and nails and also enhances the immune system. Vitamin A allows the scalp to produce sebum which aids in the thickness and shine of hair.
Vitamin C
Helps to build collagen, a protein that is crucial in the progress of hair growth. Effective in the treatment of hair loss. Aids in the health of the skin and enhances the immune system. Increases scalp circulation, which aids in hair growth.
Vitamin D3
Plays a key role in preventing hair loss as well as fostering hair growth. Enhances the immune system.
Vitamin E
One of the strongest antioxidants available to the body. Increases hair growth and strength by stimulating more blood flow to the scalp. Protects the scalp internally and externally. Enhances the immune system.
Vitamin K
Heals damaged scalp and skin and keeps hair healthy.
Niacin (B3)
Minimizes cholesterol buildup on the scalp, which enhances hair growth.
Vitamin B6
Particularly important for hair growth and may cause hair loss when there is a deficiency in the body. Stimulate hair growth, especially in people who suffer from hair loss or thinning.
Folic Acid
An essential vitamin that plays a key role in the overall health of hair and is involved in all three hair follicle cycles, helping to determine a hair strand's quality and longevity. A deficiency can stunt hair growth. Promotes hair growth by renewing the cells that grow hair. A deficiency in folic acid can inhibit the health of your hair and lead to hair loss and premature graying.
Vitamin B12
Energy booster. Many people who suffer from hair loss have vitamin B12 deficiency. Nourishes scalp and heals the scalp thus promoting hair growth.
Biotin (B7)
B-complex vitamin useful in the prevention of hair loss and premature graying. Promotes elasticity within the hair's cortex while thickening cuticles to eliminate breakage. Decreases itchy dry and flaky scalp. Supports the health of the hair, skin and nails.
Zinc
One of the most important vitamins needed for healthy hair. It helps the body to sustain healthy hair in many ways. Helps the body to utilize protein and also contributes to speedy hair growth. A deficiency can reduce the effectiveness of other vitamins in the body.
Where To Buy Manetabolism Hair Growth Vitamins
4. Movita Hair, Skin, And Nails Organic Tablets
About Movita
Movita Organics was founded by Tonya Lewis Lee in 2019. Tonya served as the National Spokesperson for the "A Healthy Baby Begins with You" campaign initiated by the U.S. Department of Health and Human Services Office of Minority Health. This personal health journey coupled with her entrepreneurial spirit led Tonya to create Movita.
How This Product Supports Black Hair Growth
While Movita vitamins were created with women in mind, all of us can benefit from the ingredients in each tablet.
According to the company, Motiva vitamins are better than the usual pills because they use a patented-fermentation process that creates 60 times higher bioactivity than conventional vitamins.
This full prebiotic and probiotic fermentation also removes toxins and oxidants, creating a purer tablet that delivers more anti-oxidants than other conventional vitamins
Where To Buy Organic Movita Vitamins
Black Owned Hair Growth Oils and Stimulants
About Sahel Cosmetics
Sahel Cosmetics is a beauty company that started in Chad,Africa. The company specializes in traditional Chébé powder – the ancestral secret of Chadian women that allows them to keep the hair hydrated, strong, and long.
Sahel Cosmetics was created in 2017 by Gwen, the French youtuber of Chadian origin known as Miss Sahel. Born to Chadian parents, she grew up and lived all her life in France. She would visit her relatives in Chad during vacations and it always used to be a pleasure for her discovering different facets of her own culture.
How This Product Supports Black Hair Growth
Chebe powder is a mix of Shébé seeds (from the croton zambesicus plant alikay naturals), mahllaba soubiane seeds, missic stone, cloves and samour resin. You can buy it as a powder, which can be mixed with an oil of your choice and then applied to the hair as a mask.
Chebe powder is used by women of a Chadian ethnic group, giving them exceptional quality and length of hair.
Chebe powder is touted for nourishing, hydrating, and improving moisture retention in the strands of hair. This makes the strands of your hair thicker and longer.
The chebe powder is combined with unrefined Shea butter, organic coconut oil, pure vitamin E, and three organic cold-pressed oils: castor, argan and lemongrass essential oil.
Where To Chebe Powder from Sahel Cosmetics
2. Alikay Naturals Growth Oil
About Alikay Naturals
The company creates formulations with no mineral oil, no alcohol, no sulfates , no silicones, no parabens. Using the knowledge of the benefits of natural ingredients that she learned from her herbalist YaYa as a young girl in the Caribbean, Rochelle began to formulate products that addressed the needs of her sin and her Black hair.
According to their site, Alikay Naturals products use the healing properties found in natural & organic ingredients to nourish and replenish moisture from inside out.
How This Product Supports Black Hair Growth
One of the key ingredients in Alikay Naturals Growth Oil is Tea Tree Oil. Tea tree contains antifungal, antibacterial and anti-inflammatory essential oils that breaks down undesirable buildup and residue at the scalp and roots to promote healthy hair growth.
Where To Buy Alikay Naturals Growth Oil
3. Camille Rose Naturals Ajani Growth Balm
About Camille Rose Naturals
Janell Stephens makes Camille Rose Naturals products from food grade ingredients and gourmet blends. The company started in 2011 and took off in 2012 with a product line of skincare products ranging from diaper rash cream to nursing mom cream.
How This Product Supports Black Hair Growth
The balm is made with cocoa wafers, rice bran oil, virgin palm kernel, babassu oil, murumuru butter, candulla, honey, castor jelly, biotin, castor oil, silky btms, ceteryl blend, and natural scent. Thats the full ingredient list.
Rice Bran Oil specifically is known to facilitate hair growth while preventing the premature development of grey hair.
Where To Buy Camille Rose Naturals Ajani Growth Balm
4. Qhemet Biologics Amla & Olive Heavy Cream
About Qhemet Biologics
According to their website, Qhemet Biologics is "inspired by African, Mediterranean and Ayurvedic hair care traditions. Founded in 2004 by a historian with natural hair, Qhemet products are formulated to address the hair needs of conscientious naturals with thick, dry hair. Each product is carefully crafted to nourish, strengthen, growth and moisturize, exceptionally. We want you to embrace your hair and embrace your heritage with ancestral hair care for modern naturals!"
How This Product Supports Black Hair Growth
This product is 100 percent vegetarian and does not contain mineral, silicone, protein, or gluten. The Amla & Olive Heavy Cream contains castor oil, olive oil, amla, Brahmi, and African aloe—premium Afro-Indian botanicals used for thousands of years to nourish the scalp and grow hair.
Where To Buy Qhemet Biologics Amla & Olive Heavy Cream
Side By Side Comparisons
Here is a side-by-side comparison of the four Black hair growth vitamins.
And here is a side-by-side comparison of the four Black hair oils and stimulants.
Did we forget your favorite Black Hair Products? Leave a comment below!